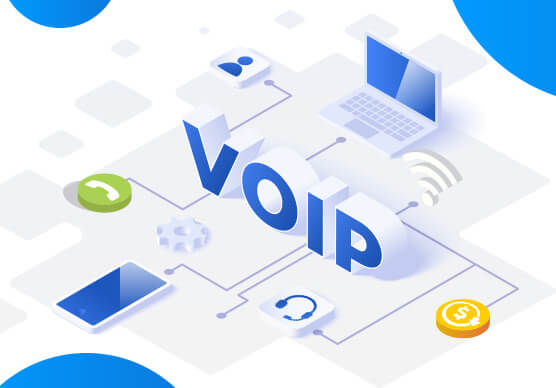 Rocommended VOIP Communications Tools
The platform you select is critical for good communication when you have virtual employees because it will determine your success. It can be really advantageous for your company to hire a virtual assistant, but let's be honest—for this to work, you need to have procedures and processes in place. Also, these procedures and systems need to be optimized. There are many excellent systems available, ranging from cost-effective and free services to high-end systems with additional features. You only need to focus on what works for your company.
The benefit of a VoIP system is that, in addition to allowing you to communicate with your Virtual Assistant, it can be integrated into your other business processes. We have amassed information over the years on the communication platforms used by our clients and virtual assistants, and we are sharing it with you today.
VoIP converts incoming and outgoing calls into digital signals before sending them over the internet to non-VoIP numbers where they are then converted back to regular telephone signals. VoIP allows you to make and receive calls wirelessly across mobile hotspots, from a VoIP phone, a traditional phone connected to an adaptor, from a computer, and from other devices.
Here are the Service providers:
Subscription Needed
1. RingCentral- When your company communications are packaged, you may avoid paying several providers for a variety of services and don't have to try to make separate solutions work together. The cost of running their user-friendly cloud-based solution is far lower than that of standard on-premises phone systems. The capabilities of RingCentral are excellent for any team, and it streamlines and facilitates cooperation.
2. Grasshopper: More mobile enterprises will benefit greatly from Grasshopper's VoIP solution. As long as you have an internet connection, you may phone or text from anywhere, giving you the freedom a small business needs. Get access to a business phone number and all the advantages of a powerful phone system without having to pay for additional hardware. Your personal number will remain secret in this manner, and you will always be aware of business calls.
3. Nextive – Services from Nextiva are reasonably priced and excellent for connecting to your virtual assistant. You have the same flexibility to manage and cooperate with the Nextiva App as you have with your desk phone. Moreover, Nextiva provides a single, robust platform with phone, email, chat, and SMS capabilities that gathers and assesses all data for each contact.

Free (Goin premium is optional)
1. Skype is an Internet-based communication tool that specializes in enabling video chat and voice calls between computers, tablets, smartphones, the Xbox One gaming console, and smartwatches. Moreover, Skype has instant chatting capabilities. Users are able to send text, audio, video, and photos. Although Skype is primarily a free service, there are subscription options that unlock additional features that may be helpful for team work.
2. Google Voice is a phone service that offers voicemail, call forwarding, voice and text messaging, as well as domestic and international call termination for users of Google Accounts. Each user account with Google Voice comes with a free U.S. phone number that can be selected by the user from a list of numbers in particular area codes. Calls to this number are routed to different users' configured phone numbers in the account web page. It is possible to specify multiple destinations that ring at the same time for incoming calls. When combined with Google Voice, Google's chat features make it a useful tool for team communication.
3. Zoom – Zoom is more than simply a VoIP service; your team can utilize its free services as a platform for meetings and chats. with fantastic features like text chat, breakout rooms, etc. If Zoom is thoroughly investigated, it can be excellent for managing team communication and offers many other amazing features that might be beneficial to you and your organization.
VOIPs that are compatible in Mobile/Desktop
1. Facebook Messenger is a popular app among our clientele who are engaged on social media. It is convenient and straightforward to access due to its seamless use across various devices.
2. WhatsApp is a free program that was created with the needs of small business owners in mind. To exhibit your goods and services, make a catalog. Use tools to automate, sort, and swiftly respond to communications to connect with your consumers. Also, WhatsApp may assist medium-sized and large companies with customer service and notify clients of critical events.
3. Viber -No matter who they are or where they are from, people may connect with one another using the calling and texting app Viber. Over 1 billion users worldwide connect with their loved ones through high-quality audio and video conversations, texting, and much more with a free and secure connection. You can be sure that your interactions are always private because end-to-end encryption is incorporated into all Viber calls and chats.
In addition to using these VoIP options, you should think about using additional platforms like project management tools like Monday, Trello, Zoho, or Basecamp. With these tools, you can keep track of who is in charge of each project and the specific tasks they are responsible for, as well as track the progress of each component and communicate information that is relevant to it. To make sure that all of your documentation, files, photographs, etc. are easily accessible for your entire team, you may also want to take a look at online file databases like google documents or dropbox.
Communication doesn't have to be tough in the modern world. It just comes down to completing your homework and determining what will work best for your business and your virtual assistant with all the communication tools available and the ongoing advances. MyOutDesk offers support at every stage of the process when it comes to technology and all you need for a flawless partnership with your Virtual Assistant.